So, Windows 10 launched today and you're trying to work out why you haven't got it yet? You do know that because Microsoft is releasing its new OS in waves, not everyone can get it right away? Or perhaps you merely prefer to have a little more control with a USB Windows 10 Installer or a DVD? Whatever you want, the choice is all yours.
Furthermore, some users are having trouble with Windows Update. Thankfully, there's a simple workaround.
All you need is a genuine copy of Windows 7 or Windows 8.1, Microsoft's Windows 10 Media Creation Tool, and an Internet connection. This is the manual version of everything the "Get Windows 10″ tool is supposed to handle for you.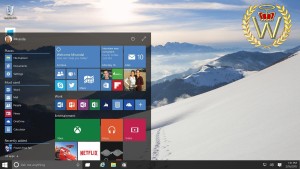 The generic, unaltered, run-of-the-mill Windows 10 desktop
If you're running a 32-bit copy of Windows, download the tool from HERE. If you're running a 64-bit copy of Windows, download the tool from HERE. If you're not sure, hold the Windows key and press the pause/break button. See what it says under "System type."
Note 1: If you have Windows 7 or 8.1 Starter, Home Basic or Home Premium you will be upgrading to Windows 10 Home. If you have Windows 7 or 8.1 Pro or Pro Student, you will be upgrading to Windows 10 Pro.
Windows 7 and 8.1 Enterprise are not permitted to upgrade to Windows 10! If you have an Enterprise edition and are desperately seeking Windows 10, then you'll have to think outside the Microsoft box. Tip: Change your Windows licence key to a Pro version and then use Remove WAT (Remove Windows Activation Technology) 2.2.6.
"N" and "KN" editions of Windows 10 Home and Windows 10 Pro are also available and include the same functionality as the standard editions, except that they do not include certain media related technologies (Windows Media Player, Camera, Music, Films & TV) and does not include the Skype app. … It's a European thing.
For information on the differences between Windows 10 Home and Windows 10 Pro, see http://www.microsoft.com/en-gb/windows/windows-10-editions.
Note 2: Microsoft is only offering the Windows 10 Upgrade for one year. So I suggest you get your USB or DVD version while you can and keep it in storage. If you do need to use it at a later date, just tell your computer it's Thursday July 29, 2015 again. 😉
---
WARNING!
If you are upgrading from Windows 8.1 and you are running a replacement Windows 7 facsimile START MENU, make sure you shut it down prior to beginning the installation process.
Any automated pre-startup temp file cleaners like Yamicsoft's Windows 8 Manager – One Click Cleaner should also be closed down prior to beginning your installation of Windows 10.
Lastly, if your Windows 7 or 8.1 is less than legit and you've used some Windows Activation Technology get-arounds, you may need to supply a genuine Windows 10 licence code. Or try playing around with Remove WAT (Remove Windows Activation Technology) 2.2.6, KMSpico Activator or some genuine Windows 7 or 8.1 licence codes. I have not tested it, but KMSpico Activator may also activate Windows 10 after you've installed using a non-activatable Licence Code.
Hidden your Windows 7 or 8.1 licence code and you can't figure out what it is? Try this: magicaljellybean.com/keyfinder. It's safe to install, but do make sure you read before agreeing, or you will install bullshit you do not want.
What I do not like
The Start Menu. While it is there and is probably going to satisfy most people's needs, I prefer the older, more configurable Windows 7 style Start Menu. However, that's not a problem; Just add your own Windows 7 style Start Menu from numerous sources.

Valkyries … BIG BOOBS are a must – NO FAT CHICKS!

Nigger and the Reverend

Windows 10 with a Windows Vista style Sidebar,
Stardock Start10
Menu and Stardock Fences
(Creativity Folder is stored on a remote Hard Disk Drive elsewhere on RaHoWa Net Pte)
Apart from that, upgrading to Windows 10 is as easy as installing a Service Pack. Any previously installed software and settings will be retained, right down to your choice of desktop wallpaper. The only complaints should be from die-hard Windows 7 purists and those freaks that get their rocks off on Windows 8.1 and its back to Windows 3.11 For Workgroups scheme.
Enjoy your Microsoft freebie while you can.
UPDATE: January 2016
Reports have it that when you do a clean install of Windows 10, you can now use your Windows 7 or Windows 8 serial/key. That means you are no longer forced to upgrade from an older and perhaps faulty operating system. You can wipe and begin again.